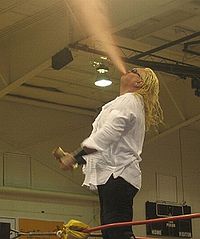 twisted is a Pro Wrestler signed to WWE, and shall be competing on it's future revived ECW brand.
FCW(2010 - 2011)
Edit
Twisted was signed to WWE in late 2010 and would be sent to FCW competing against Heath Miller and David Otunga for around a year until being called up.
WWE Superstars(2012 - Present)
Edit
After being called up to the main programs, Twisted was signed to WWE Superstars and would debut as a heel defeating Alex Riley. It was reported Twisted would compete as a superstar on the revived ECW Show coming March post WrestleMania.
Ad blocker interference detected!
Wikia is a free-to-use site that makes money from advertising. We have a modified experience for viewers using ad blockers

Wikia is not accessible if you've made further modifications. Remove the custom ad blocker rule(s) and the page will load as expected.