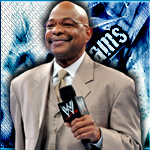 General Manager(2009 - 2012)
Edit
Teddy Long was made GM of Smackdown after the departure of Vickie Gurrero. Teddy would spend the next few years in feuds with Drew McIntyre, Dolph Ziggler and Mark Henry. In 2011, COO Triple H gave Teddy power to book matches on Raw SuperShow and ECW Revival if needed. In early 2012, after Daniel Bryan started arguing over why Daniel had to constantly defend his World Heavyweight Championship.
In Febuary 2012, with the resignation of Raw SuperShow GM Edge, Teddy Long was made GM of Raw and Smackdown. Teddy was replaced on Smackdown as GM by Bret Hart. This sparked a storyline feud between the shows over ratings and brand supremecy with a 12 person Tag team match with the winning team(Long or Hart) will choose a show to run(ex. Long could return to run Smackdown and give Hart Raw Supershow or choose to run both shows).
In May-June 2012, with the return of Edge as GM of Raw, Teddy attempted to have a Co-GM rule with Edge, but was eventually moved soley to Smackdown by Triple H after Teddy reportedly hired Goldberg to take Edge out.
In October 2012 Teddy Long was demoted to Co-Assistant GM of Smackdown.
Known For
Edit
1. Holla Dance
2. Its Gonna Be A Tag Team Match Playa
3. You Gonna Be In A Match One On One WIth The UndaTaka
Ad blocker interference detected!
Wikia is a free-to-use site that makes money from advertising. We have a modified experience for viewers using ad blockers

Wikia is not accessible if you've made further modifications. Remove the custom ad blocker rule(s) and the page will load as expected.