| | | | |
| --- | --- | --- | --- |
| Dark Match | Skullbuster defeated Tyson Kidd | Singles Match | None |
| #1 | Rey Mysterio and Sheamus defeated Bully Ray and Christian | Elimination Tag Team Match | None |
| #2 | Zack Ryder(c) defeated Vince | TLC Match | US Championship Match |
| #3 | Team Goku(Goku,Nappa,Skullbuster,MVP and John Morrison) defeated Team Vegeta(Vegeta,Vince, Daimon Rush and Mark Henry | Traditonal Survivor Series 5 on 5 Elimination Tag Team Match | Mick Foley will serve as special guest referee |
| #4 | WWE COO Triple H defeated Kevin Nash | No Holds Barred Match | If Kevin Nash wins, Kevin gets a (kayfabe) 5 year contract with WWE, and a free championship match. |
| #5 | Cody Rhodes(c) defeated Justin Gabriel | Singles Match | Intercontinental Championship Match |
| #6 | Daniel Bryan vs Wade Barrett(ended in a draw) | Singles Match | If Barrett wins, he gets Bryan's MITB Contract |
| #7 | Team Cena(John Cena,The Rock,Sin Cara Azul, Randy Orton and Zack Blaze defeated Team Awesome Truth(The Miz,R-Truth, Sin Cara Negro, Rapp3r and Cody Rhodes | Traditonal 5 0n 5 Survivor Series Match | None |
| #8 | Robert Roode(c) defeated James Storm(w/AJ Styles) | Street Fight | TNA World Heavyweight Championship |
| #9 | WWE Champion CM Punk defeated Alberto Del Rio | No Holds Barred Singles Match | WWE Championship Match |
| #10 | The Big Show(c) defeated The Undertaker | Singles Match | World Heavyweight Championship match |
| | | | |
| --- | --- | --- | --- |
| MVP | Team Goku | Eliminated by Mark Henry | 3:02 |
| Mark Henry | Team Vegeta | Eliminated by John Morrison | 4:05 |
| John Morrison | Team Goku | Eliminated by Vince | 4:10 |
| Vince | Team Vegeta | Eliminated by Nappa | 5:30 |
| Additude | Team Vegeta | Eliminated by Goku | 8:52 |
| Nappa | Team Goku | Eliminated by Eddy Guerrero | 12:54 |
| Eddy Guerrero | Team Vegeta | Eliminated by Skullbuster | 15:04 |
| Skullbuster | Team Goku | Eliminated by Vegeta | 16:01 |
| Vegeta | Team Vegeta | Eliminated by Goku | 20:05 |
| | | | |
| --- | --- | --- | --- |
| Hunico | Team AT | Eliminated by Sin Cara | 3:01 |
| Sin Cara | Team Bring It | Eliminated by Rapp3r | 3:10 |
| Rapp3r | Team AT | Eliminated by Zack Blaze | 4:05 |
| Cody Rhodes | Team AT | Eliminated by Randy Orton | 7:15 |
| Randy Orton | Team Bring It | Eliminated by Miz | 8:16 |
| Zack Blaze | Team Bring It | Eliminated by R-Truth after interfierence from Kane | 10:05 |
| R-Truth | Team AT | Eliminated by John Cena | 15:06 |
| The Miz | Team Bring It | Eliminated by The Rock | 20:15 |
Reception
Edit
The Pay Per View was very well recived, several superstars in particular were given high-praise by fans and critics alike, this includes The Rock, who despite his decreased wrestling schedule, dominated The Miz and Cody Rhodes. Another superstar given high praise was Zack Blaze, whom had been returning from injury, eliminated Rapp3r in such a quick fashion. and finally, rising superstar Goku was given the highest praise not only elimnating 2 superstars single handed, Goku also eliminated heated rival Vegeta with his new finisher, The Cross Face.
Rapp3r who debuted at Survivor Series, although was eliminated early on, was highly praised by critics for battling the returning Zack Blaze.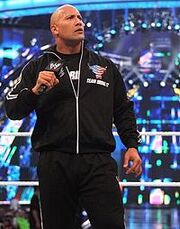 Ad blocker interference detected!
Wikia is a free-to-use site that makes money from advertising. We have a modified experience for viewers using ad blockers

Wikia is not accessible if you've made further modifications. Remove the custom ad blocker rule(s) and the page will load as expected.