Stanley "Stan" Murphy better known as Stan Sylvester is a WWE Superstar on it's raw brand. He is a former Intercontinental Champion.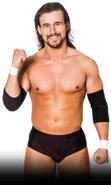 Stan Sylvester debuted in September 2012 on Raw beating Alberto Del Rio by DQ after he hit him with a chair. Del Rio continued the attack until Sheamus chased him away. The next week on Raw Sylvester and Sheamus lost to Del Rio and Dolph Ziggler after Del Rio made Stan tap out. When Sheamus tried to help him he low blowed him turning heel in the process.
Intercontinental Champion
Edit
At Hell In A Cell Sylvester interfered in the Intercontinental Title main event attacking champion and challenger. He lost again in a triple threat for the title after Kingston pinned him. On Smackdown Sylvester won his first match against Kofi by countout after hitting him with a pair of brass knuckles when the ref wasn't looking. The next week Sylvester won again after hitting an inverted facebuster on Kingston. At Survivor Series Sylvester beat Kingston for the title after low blowing him and hitting the facebuster. At TLC he retained it in a Chair Match after hitting Kingston with a chair during the trouble in paradise and clotheslining him. At Royal Rumble he entered #14 but was eliminated by Kane. Sylvester attempted to enter the Elimination Chamber but was defeated by Chris Jericho to qualify. At The chamber he defended his title in a fatal 4 way elimination featuring Kingston, John Morrison and Damien Sandow. Morrison eliminated Sandow, Sylvester took out Morrison and Sylvester lastly eliminated Kingston after Sandow hit him with the the tile and Sylvester pinned him. At WrestleMania he lost the title to the Miz after Miz made him tap with the figure four leglock. He was then drafted to Raw where his first match was against Evan Bourne winning after hitting the Dominion. He then left for 2 months due to a sidelined ACL. At Payback he fought Miz in a rematch but lost by DQ after he struck the ref. At Money In The Bank he won and has yet to cash in. Since Sylvester repeatedly walked away from matches claiming he only used his skill for his cash in. He was even suspended for 60 days but returned after 2 to interfere in the WWE Title match at Summerslam but was attacked by Jericho. At Night Of Champions He beat Jericho to keep the case after hitting him with it(it was No DQ). He finally got suspended for 6 months starting September 29.
Finishing Moves
Edit
The Dominion( Inverted Facebuster) -2012 present Clothesline- 2012 present although used as a signature move present.
Signature Moves
Edit
Snap Suplex Boot to opponent on Turnbuckle
Entrance Themes "Hell Yeah" by Rev Theory-Debut "Hate Me" by Saliva-Heel
Ad blocker interference detected!
Wikia is a free-to-use site that makes money from advertising. We have a modified experience for viewers using ad blockers

Wikia is not accessible if you've made further modifications. Remove the custom ad blocker rule(s) and the page will load as expected.