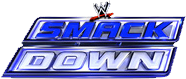 WWE Smackdown (also known as Super Smackdown when live) is WWE's secondary TV Show.
It is currently run by Nults McKagan. Its current champions are Jacob Cass (WHC) and Paige (Diva), while the IC title is vacant
Ad blocker interference detected!
Wikia is a free-to-use site that makes money from advertising. We have a modified experience for viewers using ad blockers

Wikia is not accessible if you've made further modifications. Remove the custom ad blocker rule(s) and the page will load as expected.