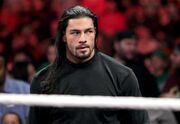 Roman Reigns is a pro wrestler signed to WWE, who primarily appears on RAW as a member of the Shield alongside
Seth Rollins
and
Dean Ambrose
.
Roman debuted alongside Dean Ambrose, with the already debuted Seth Rollins in attacking Ryback at TLC 2012. The following night, they attacked both Randy Orton and CM Punk. Over the following months, Reigns and the other members of the Shield would partake in feuds against Daniel Bryan, Kane, Randy Orton, and various other stars, winning most of their matches by outnumbering their rivals.
In late 2013, Reigns started to break away from the Shield after accidently spearing, and injuring ally Randy Orton, and causing losses against the Wyatt Family.
Intercontinental Champion & World Heavyweight Champion (2014- Present)
Edit
Reigns continued his departure from the Shield when he was inserted into a 8-man Championship scramble match at WrestleMania XXX, and won the title. On the following WWE Main Event, and Saturday Night Main Event following WrestleMania, Reigns fought United States Champion Bad News Barrett, and in both matches ended in a draw following a double count out, and a timelimit draw. On the April 15th edition of Raw, Reigns vacated the IC Title for a World Heavyweight Championship match, in which he defeated Ned Edgewalker for the title, with help from Ambrose & Rollins.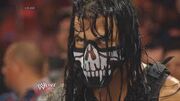 After winning the World Heavyweight Championship, Reigns would debut a new gimmick in which he would start wearing a skull mask, talk in a low pitched voice, and along with the Shield, they would claim they are now fighting for "salvation" as well as justice.
At Payback 2014, Reigns defended the World title against Edge in a two-out of three falls match, but lost the title when Triple H scheduled another title match in which he lost the title to Jacob Cass.
Ad blocker interference detected!
Wikia is a free-to-use site that makes money from advertising. We have a modified experience for viewers using ad blockers

Wikia is not accessible if you've made further modifications. Remove the custom ad blocker rule(s) and the page will load as expected.