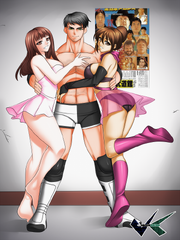 Ollie Anderson

Ring Name(s):

Ollie Anderson

Mike Forside

Height:

5'11"

Weight:

230

Born:

May 5th

Resides in:

Alberta,Canada

Billed from:

Alberta,Canada

Trained by:

Bret Hart

Lance Storm

Debut:

2004
Ollie Anderson is a professional wrestler currently signed to WWE, who appears on its Smackdown brand. 
Independent Circuit (2004-2011)
Edit
Ollie Anderson debuted the EntouRage with John Daniels,Matt Andrews (known as Spike at the time), and Emma attacked MASADA and helped John get the victory and they we're signed and beat the American Wolves and Emma and Daniels we're in masked people attires and attacked Davey Richards when the ref wasn't looking which they teamed Edwards and they hit Richards in the shoulder with a pipe and ran away and Edwards taged Richards in and he made a comeback but he went for one more clothesline and connected it but after it he just fell down and the refs and EMT's checked on him but Spike pinned Richards and he couldnt kick out of the 3 count and they won and all 4 got calls from WWE but Daniels got a call from TNA and Spike and Ollie won the 1,000$ tag team tournament while Emma won the ROH Womens Title match and they all left but Emma was booked to lose the title for her farwell in ROH.
WWE 2012-PRESENT
Edit
Ollie,Emma,Spike,and Daniels debuted the EntouRage but WWE decided to call Spike Matt Andrews and those 3 (Emma,Matt,Ollie) we're drafted to ECW Revival while Daniels was stuck on RAW and they we're seen as the off-screen assitants of JDUDE who we're reciving his calls or calling him time to time before they made their on-screen debut as helping Daniels help Cena retain against Daniels arch-enemy Abyss and then they helped Daniels win all of his matches but failed to help him win at his PPV debut and return at WrestleMania XXX and then failed to help him win on his on-tv return against Adam Rose and Daniels also convinced WWE to resign the 3 after their release and they did get resigned.
In Wrestling
Edit
Finishing moves

Running Heel Kick
Too much faith (Indian Death Lock

Signature Moves

Spinning moonsault
JackKnife
Over-the-top-rope clothesline
Reverse DDT

Entrance Theme

Team Canada (2004-present)
Ad blocker interference detected!
Wikia is a free-to-use site that makes money from advertising. We have a modified experience for viewers using ad blockers

Wikia is not accessible if you've made further modifications. Remove the custom ad blocker rule(s) and the page will load as expected.