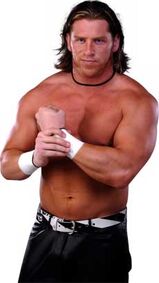 Michael Powers is a wrestler signed to WWE Working on ECW Revival.
Michael Powers came on the first ever ECW Revival show at the end with a group of masked people... all were masked except them. He took out Kevin Nash at the end of the show with his group of masked people. This was stopped by Stone Cold and Hulk Hogan though. The following night, it was revealed by Twitter that the group of people was Heath Slater and Husky Harris. Michael then proclaimed himself the leader of ECN (Extreme Championship Nexus). Micheal would then go onto earn a future ECW World Championship Match defeating RVD. After the ECN lost at WrestleMania to Stone Cold, Shawn Micheals and Kevin Nash, Michael was fired by Tiffany, it was announced his contract was picked up by Smackdown.
Finishing Moves
Powers Bomb: Toe Stomp then a high impact powerbomb (usually into a turnbuckle or ladder or something leaned up)
Diving Backhand Chop
Spear
Signature Moves
Springboard Headbutt
shot with a foreign object
DDT off top rope
Diving School Boy
Jackknife
Double Underhook atomic drop
Ad blocker interference detected!
Wikia is a free-to-use site that makes money from advertising. We have a modified experience for viewers using ad blockers

Wikia is not accessible if you've made further modifications. Remove the custom ad blocker rule(s) and the page will load as expected.