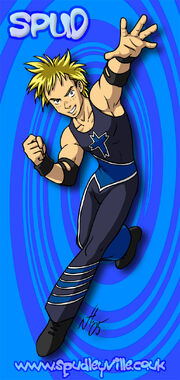 Matt Andrews

Ring Name(s):

Matt Andrews

Spike

Height:

5'9"

Weight:

110

Born:

August 30th

Resides in:

Toronto Ontario,Canada

Billed from:

Winnipig,Canada

Trained by:

Lance Storm

Bret Hart

Debut:

2004
Matt is a professional wrestler currently signed to WWE, who appears on its RAW brand. 
Independents (2004-2011)
Edit
If you thought the EntouRage happend in the WWE well your wrong because in ROH John Daniels may never told you this but on a following show of ROH John Daniels fought MASADA and Emma,Ollie Anderson,and Matt Andrews attacked MASADA and John Daniels did the 450 splash and had MASADA out for the 3 count and Jim Cornette signed Daniels,Emma,Anderson, and Matt that same show and they had won the tag titles the same show from Eddie Edwards and Davey Richards and they had recived a couple calls from WWE and they won their last match in a loser leaves match but they we're in a 1,000$ tag team tournament and lost it and then they left in 2011 to go to the WWE.
WWE 2011-present
Edit
Emma,Matt Andrews,John Daniels, and Ollie debuted in the WWE and they we're drafted onto ECW Revival except for John Daniels he was on raw and Daniels was the only person to go to a outsider promotion if TNA ever got bought and longest reigning champ but he was striped of the title due to not fighting in TNA with it then Daniels got drafted to Smackdown and the EntouRage reunited and they helped John Daniels beat up Abyss and help Cena retain the WWE Title and then the EntouRage kep on failing to help Daniels win matches.
In Wrestling
Edit
Finishing moves

DCDROP (Reverse Piledriver: could break neck also)
Bycicle Kick

Signature Moves
Entrance Theme
Ad blocker interference detected!
Wikia is a free-to-use site that makes money from advertising. We have a modified experience for viewers using ad blockers

Wikia is not accessible if you've made further modifications. Remove the custom ad blocker rule(s) and the page will load as expected.