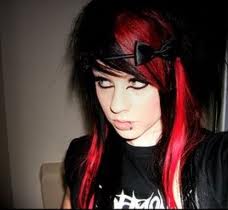 Name: Andy Rayne Taylor
Ring Name: Khaos Weight: 120 pounds Height: 5'1 Billed from: Defiance, Ohio Theme: My Generation by Limp Bizkit Signature Move: Khaotic Komet, a starpress that allows her to get a clothesline on her opponents. Andy is a nonconforming girl from a small town in Ohio. After her seventeenth birthday, she ran to Bristol, Pennsylvania to get free from her drug-addicted mom and a rapist boyfriend. She met and was trained by CM Punk in Ring of Honor in 1999, and has been friends with him ever since. Andy meets and falls for The Undertaker in Play with Fire. She loves to wrestle guys, and hates the girls that make the WWE Diva's Division a joke. Andy's style is based largely off of Legendary Stars' moves. She has black hair with crimson streaks and green eyes.
Ad blocker interference detected!
Wikia is a free-to-use site that makes money from advertising. We have a modified experience for viewers using ad blockers

Wikia is not accessible if you've made further modifications. Remove the custom ad blocker rule(s) and the page will load as expected.