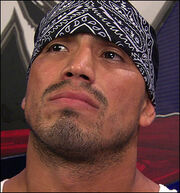 Debut, Hunico and return of Sin Cara
Edit
After Sin Cara Azul lost a tag team match on the 8/19/11 edition of Smackdown. Negro attacked Sin Cara and took over acting like the original Sin Cara, until after a string of losses he attacked Daniel Bryan, turning heel. After a string of tag team losses, Sin Cara turned heel by attacking Daniel Bryan blaming Daniel for his losses. At Destination Death PPV, Sin Cara became the new(and first) Undisputed X-Division Champion defeating Evan Bourne. He would get his first singles loss in his WWE Career losing to new comer Goku. After losing to Goku, the original Sin Cara, Sin Cara(now going as Sin Cara Azul) tore off Sin Cara(Negro)'s mask to reveal a black mask, and now goes under Sin Cara Negro. The two have since started a feud. After losing a Mask vs Mask match against Azul, Negro woul replace his mask with a replica of Azul's mask, but the color's are switched. Negro would lose this mask in a Mask vs Mask rematch. Hunico would debut his ring name from Mexico, dropping the Sin Cara Negro gimmick. After months of feuding with Sin Cara, Mistico would be injured and weeks later, Hunico would be fired in storyline so he could take over as playing the Sin Cara character so Mistico could heal. Hunico would return as Sin Cara under black and green attire being eliminated by Kane in under 3 minutes. After a few weeks, Hunico would be again replaced by the original Sin Cara(Mistico)
Brand switches
Edit
Hunico's contract would be picked up by Tiffany brining him to ECW Revival. Hunico would return to using his green and black attire when he won the European Championship. After the closure of ECW, Hunico would become a free agent.
Other Images
Edit
Ad blocker interference detected!
Wikia is a free-to-use site that makes money from advertising. We have a modified experience for viewers using ad blockers

Wikia is not accessible if you've made further modifications. Remove the custom ad blocker rule(s) and the page will load as expected.