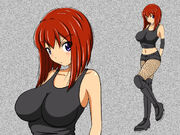 Independent Circuit 2004-2011
Edit
Emma debuted in ROH with, Matt Andrews,John Daniels,and Ollie Anderson and helped Daniels beat MASADA then Emma and John attacked Davey Richards so he passed out while he was the legal man in the tag match and helped Ollie and Matt win then Emma went undefeated for till early 2011 for when she won the ROH Womens title from Maria Kaneills and won the title and lost the title when she lost the title when she left ROH for wwe.
WWE 2011-PRESENT
Edit
EMMA went to ECW Revival with Matt and Ollie and we're JDUDE's callers who called him time-to time then she debuted with them helping Daniels beat Abyss to help Cena retain his title and helped Daniels win then they failed to help him win at his ppv-return at WrestleMania XXX and they failed to help him win on his on-tv return against Adam Rose and Daniels also convinced WWE to resign them after getting released and now they are pretty much inactive after Daniels on-tv return.
Ad blocker interference detected!
Wikia is a free-to-use site that makes money from advertising. We have a modified experience for viewers using ad blockers

Wikia is not accessible if you've made further modifications. Remove the custom ad blocker rule(s) and the page will load as expected.