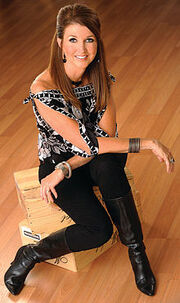 Dixie Carter is a pro wrester signed to WWE. She is the former President of TNA Wrestling and currently a booker and producer for WWE.
In 2010 after the purchase of TNA by WWE, Dixie was signed to an Executive deal with WWE to help boost their product. She came up with the idea to cancell NXT and replace it with the a revived fan favorite show. She made her first TV appearence in 2012 to annoucne Big Show was the first ever WWE TV Champion(which was later unified into the Intercontinental title.). She later made an appearnce being attacked by Sting, blaming her for his loss to the Undertaker at WrestleMania. She made a backstage appearnce at subsaquent Raw shows(Raw 1000 and Nitro Rememberance Night.)
Ad blocker interference detected!
Wikia is a free-to-use site that makes money from advertising. We have a modified experience for viewers using ad blockers

Wikia is not accessible if you've made further modifications. Remove the custom ad blocker rule(s) and the page will load as expected.