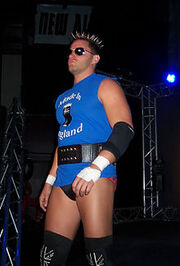 Nigel McGuinness is a professional wrestler signed to WWE competing under Desmond Miles. Miles signed with WWE's WCW Revival show.
After departing from TNA shortly before it was purchased by WWE in 2010, Nigel would compete in EWF(England Wrestling Federation) as a heel. In 2011, Nigel would sign with ROH(Ring of Honor) becoming its World Champ within a month before ROH was purchased by WWE. In ROH's final normal show, Nigel would lose the title to Tyler Black. Nigel would debut in WWE as Desmond Miles as a heel on Smackdown.
Ad blocker interference detected!
Wikia is a free-to-use site that makes money from advertising. We have a modified experience for viewers using ad blockers

Wikia is not accessible if you've made further modifications. Remove the custom ad blocker rule(s) and the page will load as expected.