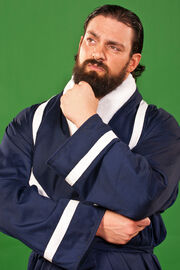 Damien would be signed to ECW and would win the EuroCore title on his debut. After ECW Revival was "rebooted", Sandow was stripped ofthe EuroCore title and instead won the reactivated Hardcore Championship, by defeating Wade Barrett. In August 2012, Sandow was traded to Smackdown, with this, his Hardcore title was vacated.In late September, Sandow started a feud with Randy Orton over contendership of the Intercontinental Championship. 
At WWE Battleground, Sandow won his first singles championship in WWE, defeating Matt Hardy for the United States Championship.
Sandow lost the title against Bad News Barrett the night after WrestleMania XXX.
Ad blocker interference detected!
Wikia is a free-to-use site that makes money from advertising. We have a modified experience for viewers using ad blockers

Wikia is not accessible if you've made further modifications. Remove the custom ad blocker rule(s) and the page will load as expected.