Kevin Smith is a wreslter signed to HCW and is currently competing under DH Smith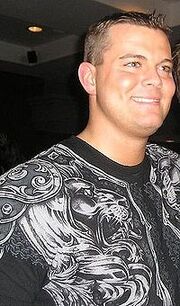 Debut, and departure
Edit
David would debut as a Heel in October 2008 as part of the Hart Alliance with Tyson Kidd and Bret Hart and would have several mid card tag team matches berfore being released.Tyson and David would return to HCW in March 2011 as Faces without Bret Hart and announcing their contention for the HCW Tag Team Championship. David would be betrayed by Tyson Kidd and they would start a fued with each other until David was released in early August.
David would return again to WWE as a member of the ECW Roster being managed by Natalya. Hart would return to defeat Eddie Kingston.
Ad blocker interference detected!
Wikia is a free-to-use site that makes money from advertising. We have a modified experience for viewers using ad blockers

Wikia is not accessible if you've made further modifications. Remove the custom ad blocker rule(s) and the page will load as expected.