Debut. and Departure
Edit
Chris Benoit would debut in WWE/TNA in April 2011 as a heel submission specialist. After making little apperances throughout the summer, Chris Benoit had his final match in July defeating Chavo Guerrero in a Submission Match. Benoit was released August 1,2011
ECW(2012)
Edit
Chris returned to WWE signing to ECW Revival as a heel. He would then be multi branded superstar with Raw.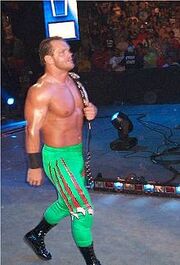 WCW (2014-Present)
Edit
It was announced on WWE.com that Chris, along with multiple other superstars would be moving to the new WCW Revival brand. His son, David Benoit is scheduled to debut on the show.
Ad blocker interference detected!
Wikia is a free-to-use site that makes money from advertising. We have a modified experience for viewers using ad blockers

Wikia is not accessible if you've made further modifications. Remove the custom ad blocker rule(s) and the page will load as expected.