Antonio Cesaro is a pro wrestler signed to WWE, and competes primarily on the RAW brand.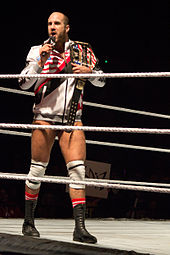 Debut and United States Champion (2012)
Edit
Antonio debuted in WWE in April 2012 as a heel with a European centered gimmick, and constantly took stabs at the United States, and feuded with Zack Ryder. John Cena and Kurt Angle. After his major feuds, he defeated Matt Hardy for the United States Championship, and held it for four weeks before losing it back to Hardy in a fatal four way match when Hardy pinned Santino Marella. After losing the title he went on a seven week winning streak, scoring wins on Raw, NXT, Main Event and Smackdown, over the likes of Ryder and Santino. On the July 4th edition of Smackdown Live. Antonio challenged any United States wrestler to a ten minute challenge match, where if he lost, he would have to admit that the United States was a great country. At first, Santino Marella came out due to his exsisting mini feud Antonio was having at the time. However instead Dolph Ziggler ran in and defeated Antonio with seven seconds left on the clock.
After his loss to Ziggler, Antonio competed on RAW and Main Event, without direction for a major half of 2013 before he made an alliance with Jack Swagger and Zeb Colter forming "The Real Americans. Swagger and Antonio made a gradual face turn, when he praised the United States. The duo would go on to have a mixed run, winning most non-title matches and coming up short when it came to titles. The duo eventually split apart by the Royal Rumble.
The King of Swing (2014)
Edit
After the Royal Rumble, Cesaro's ring name would be shortened and he was given a gimmick in which he would perform a giant swing on larger opponents. Ceasro was scheduled to face then-United States Champion Damien Sandow for the title at the event, but he was forced to miss it due to an injury to his leg.
Ad blocker interference detected!
Wikia is a free-to-use site that makes money from advertising. We have a modified experience for viewers using ad blockers

Wikia is not accessible if you've made further modifications. Remove the custom ad blocker rule(s) and the page will load as expected.