Bane is a professional wrestler signed to WWE.
In late July 2012, WWE started promoting videos of a man in a mask to coninside with the release of The Dark Knight Rises. In these videos it shows a man easily dominating large competitors. At a WWE house show, Bane made his debut dominating Umaga and Bobby Lashley in a handicap match.
Behind the Scenes
Edit
Controversy
Edit
With the release of The Dark Knight Rises, WWE came under critisism for making a chracter that "cloned" Bane from the movie.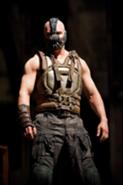 Ad blocker interference detected!
Wikia is a free-to-use site that makes money from advertising. We have a modified experience for viewers using ad blockers

Wikia is not accessible if you've made further modifications. Remove the custom ad blocker rule(s) and the page will load as expected.