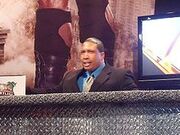 WWE announced that AW would be brought up from FCW as a heel working as manager. Upon his debut he would start managing Titus O'Neil and Darren Young as Prime Time Players. In August AW had been fired on drug charges.
Ad blocker interference detected!
Wikia is a free-to-use site that makes money from advertising. We have a modified experience for viewers using ad blockers

Wikia is not accessible if you've made further modifications. Remove the custom ad blocker rule(s) and the page will load as expected.